Info
Getting lost romantically in the park's paths or exploring all the roads in an organized way? Choose how to organize your lunch break, an important moment of the day to recharge your batteries. Pistoia offers many opportunities for excursions in the area; why not stop to get to know them?
By car
A11 Florence-Pisa Nord, EXIT PISTOIA, TURN left after tollbooth, enter the ring road and exit at PISTOIA OVEST, ZOO. Turn left at the Stop sign and follow signs for Giardino Zoologico/Zoo (4 km from the motorway exit). Visit the ViaMichelin website.
By train
Get off at Pistoia station (on the Florence-Pistoia-Lucca-Viareggio line). Take a bus to the Zoo. (Line 59SER). For timetables consult the website www.at-bus.it
By bus
From Pistoia railway station take bus number 59SER to the zoo (15 minutes). Visit the www.at-bus.it
By taxi
From Pistoia railway station take a taxi, for further info please visit pistoiataxi.it or call 05731797. Clients of Pistoiataxi service can make use of a 10% discount on the entrance fee (not applicable with other discounts), presenting the receipt issued by the taxidriver.
Camper
The park's parking is free. It is not possible to stay overnight in the Park car park. If you are looking for an equipped place to park your camper you can park at the PIAZZA OPPLA 'PARKING
Carpooling
To pollute less, share the journey with other people. Find out how to do it on the blablacar.it website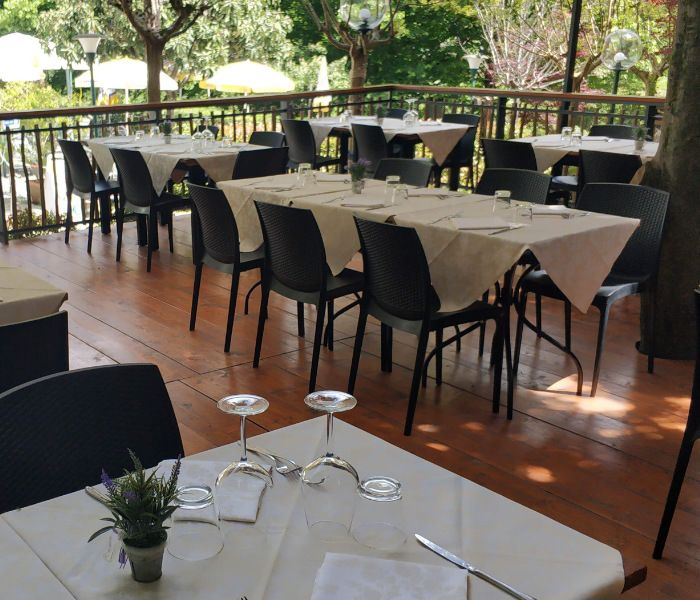 RESTAURANT
For many years the Romanelli family has been managing the catering of the Park with passion.
The "Giardino" restaurant offers menus for every taste with attention to the little ones.
Open every day for lunch; for dinner from Wednesday to Sunday.
Reservations are recommended.
For more information, visit the website www.ristorante-giardino.it
BAR / SELF SERVICE
Salads, sandwiches and hot dishes are carefully prepared for a quick lunch, to immediately resume the walk in the Park.
PIC NIC AREAS
If you want to organize a picnic we have prepared many dedicated areas.
You just have to prepare your packed lunch and choose the place you prefer.